16th Annual So-Cal Chef Open
Monday, August 14, 2023 at Peltzer Farms, Temecula
COMPETITOR INFORMATION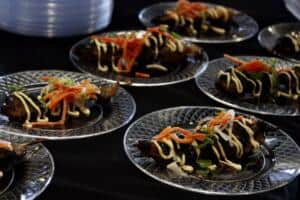 Each year the greatest Chefs in the Valley come together competing for the top honor and all for a great cause.  Join Oak Grove Center for the 16th Annual So-Cal Chef Open on Monday, August 14, 2023 at the beautiful and popular, Peltzer Winery in Temecula.
Past participating Chefs have been featured in several lifestyle magazines, television, local newspapers and received coverage from influential food critics and bloggers.  Growing in popularity and reputation, the Chef Open is a chance to showcase your amazing talent and cuisine Tapas Style to guests, peers, food critics, and media. Selling out the past two years, we anticipate 500 guests in attendance.
The So-Cal Chef Open focuses around Chefs competing for two prestigious awards.  The Pinnacle Award will be voted on by a panel of culinary judges and presented as the Grand Finale to the evening.  A People's Choice Top Chef voted on by those attending will be awarded along with a Second and Third Place award.  We encourage you to reserve your spot soon to ensure your participation and the greatest coverage benefit.
Thank you again for your consideration.  All proceeds through the event support Oak Grove's Culinary Vocational Training Program preparing at-risk and special needs youth for employment in the Culinary field and independent adulthood.  Your participation makes a huge difference in their lives and our community!
For requirements and to enter the Chef Open, complete the Registration Form and submit it to the contact below. The earlier you register, the more coverage you receive. Be sure to register before June 7th Media Preview Night where participating Chefs are highlighted.
CONTACT WITH QUESTIONS:
Kristi Piatkowski
KristiP@oakgrovecenter.org
Cell: (714) 260-2699
2023 Judging Panel:
Early 2023 Competitors & Participants:
Some Past Competitors & Winners:
** Award Winners
Please follow and like us: