Oak Grove offers many employment opportunities for those interested in treating and educating at-risk youth. We currently have over 380 staff between our two campuses and Wraparound Program.
Residential – Youth Support Workers provide 24 hour direct supervision to the residents in one of our 3 Dorms.
Day Program – Educational Assistants provide educational and behavioral support in the classroom or as a 1:1 to provide individual instruction and supervision.
Non-Public Schools – Jack Weaver School in Murrieta and Oak Grove at the Ranch in Perris – Special Education Teachers and Substitute Teachers
Clinical – Licensed Therapists (

LCSW

 and 

LMFT

) provide case management and individual, family and group therapy for our residents and students.
Community Based Services – Facilitator/Therapist, Behavioral Specialist, Parent Partners provide services to clients and families in our Wraparound Program. Life Coaches and Mentors provide guidance and direction to individuals in our Independent Living Program (Thrive).
Dietary – Dietary Aides and Cooks assist with the preparation and service of meals and snacks in our cafeteria.
Environmental Services – Our facility is maintained by Maintenance worker, painter, groundskeeper and plumber positions.
Housekeeping – Housekeepers Perform daily cleaning tasks to maintain the facility in a sanitary, orderly, attractive and safe condition.
Transportation and Vehicle Maintenance – Drivers that are at least 21 years of age with an approved 

DMV

 printout and approved by our insurance company provide transportation to students in our day program. A mechanic maintains and repairs our fleet of vans and cars.
Health Services – Licensed Vocational Nurses, Licensed Psychiatric Technicians and Registered Nurses disperse medications and provide other Health Services to the residents.
Business Office – Accounting, Medical Records, Receptionist, Administrative Assistants and Human Resources provide administrative support to the facility.
HEALTH BENEFITS
Oak Grove believes the health benefit component is important to the total compensation program and offers a benefits package that includes medical, dental and vision, life insurance, vacation and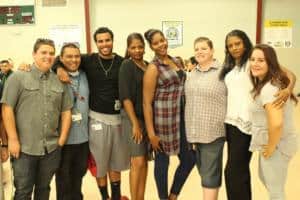 holiday pay, sick leave, and more. Full time  Employees are eligible for Group medical and dental insurance and voluntary vision insurance on the first of the month following 30 days of full-time employment. All employees are provided with group life insurance coverage and access to an employee assistance program.
Other benefits which the employee may be eligible for are: Direct Deposit to financial institutions, Flexible Spending Plan, Disability Products, Life Insurance and discount tickets to various Southland attractions. All Oak Grove employees that meet the eligibility and participation requirements may enroll in the Oak Grove Institute Foundation, Inc. 401 (k) Plan.
AVAILABLE POSITIONS
---
If you are interested in applying for an available position, please email resume, contact information, and the position you are interested in to HR@oakgrovecenter.org.
Special Education Teacher- Full-Time Position with Benefits, position details Mild/Moderate/Severe students; Credentialed or Intern Eligible Teachers; Autism Authorization Required.
Youth Support Workers- On-Call, Part-Time, and Full-Time Positions Available. Position is responsible for providing supervision, protection, and care of residential children. Maintains appropriate boundaries with residents and staff. Duties include behavioral monitoring, intervention, and documentation of resident care activities. Demonstrates strong relationships and the ability to motivate, set limits, encourage overall growth, and other duties as assigned. Education and/or work experience related to childcare in a Residential Treatment Center setting is required. BA degree or minimum of one year Group Home Experience.
Housekeeper- Full-time position with Benefits; Sunday-Thursday from 8am-4:30pm. Position includes performing daily tasks to maintain facility in sanitary, orderly, attractive and safe condition. High School diploma or equivalent is required. One year housekeeping experience is required/experience working with children is preferred.